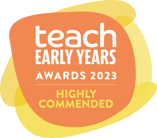 Kide Science from Accelerate Learning was named a highly commended resource in the 2023 Teach Early Years Awards. Presented by Teach Early Years magazine, the awards celebrate the best in educational resources to support children ages 0 to 5.
Kide Science was one of six resources named to the award shortlist in the Early Exploration category. The category includes math and science resources, and other resources designed to help children broaden their understanding of the world. Shortlisted resources were assessed by an expert panel of early years judges, and awards were presented in three categories: winner, highly commended, and finalist.
Kide Science is a library of play- and story-based lessons and professional development materials for teachers of children ages 3-8. The lessons promote STEM topics and the development of social-emotional, literacy, critical thinking, and problem-solving skills.
"I think for the busy teacher, who feels they are not incorporating enough science into their curriculum, this [Kide Science] would be a useful and time-saving investment because it is so clear about exactly what you need for each lesson and how to set it up," said Sue Cowley, a Teach Early Years Awards judge. "The approach is playful and fun, based on child-centered inquiry methods."
Kide Science supports teachers with video instructions, printouts, assessment tools, scientific explanations for phenomena, and tips to adjust every lesson based on a child's age and ability. For students, each lesson features an immersive, imaginative story and illustrations that present STEM problems in a concrete, fun way.
According to Cowley, Kide Science is "full of detail and very good value. The videos, which are very well-made with high production values, are used to demonstrate the different experiments. There is lots of useful information about setting up, gathering resources and the scientific concepts being covered."